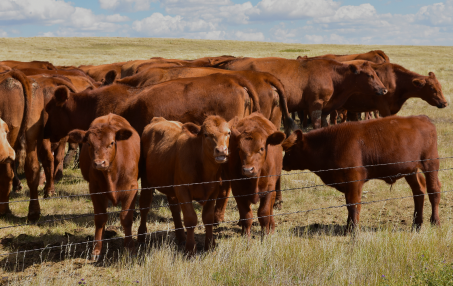 Cattle
Getting large animals and livestock to the vet can be difficult, time-consuming, and in some cases impossible! That's why we come to you, so they can get the veterinary care they need.
We offer:
Exams
Diagnostics
Consultation
Veterinary feed directives (VFD's) and other prescriptions
Ultrasound and palpation
Breeding soundness exams
Artificial insemination
Vaccinations,
Ectoparasite (grubs/lice) prevention/treatment, endoparasite (worms) prevention/treatment
Implants
Bloodwork, urinalysis, and fecal analysis
Many surgeries, including caesarian section
Necropsy
Bull Semen Testing
About 20% of bulls tested are sub-fertile—and as a livestock owner, that could cost you serious money. We can help you determine breeding soundness with bull semen testing, which includes:
rectal exam
testicular palpation
assessing scrotal circumference
electroejaculation and assessment of semen structure
If you have questions or want to set up testing for an animal, please give us a call at 641-999-2203.
Castration (Bovine)
Efficient herd management includes castration of some male calves, and at Keota Veterinary Clinic, we provide experienced surgical castration services.
In addition to being the safest and most humane method of castration, the surgical option gives you the assurance that both testicles were removed completely. Our veterinarians will ensure that your animal is well cared for throughout the procedure and provide post-operative monitoring and care instruction as needed.
Have questions about castration services or want to schedule an appointment for an animal? Call us at 641-999-2203.
Calf Scour Ward
Calf scours (diarrhea) is a common problem with juvenile cattle that can quickly become life-threatening due to rapid dehydration. Viruses, parasites and bacteria are the most common causes, making this condition very contagious and necessitating the isolation of affected animals.
At Keota Veterinary Clinic, we can provide hydration and treatment in a dedicated ward that's kept warm and dry for recuperating calves.
Questions about sick animals or our calf scour ward? Call us at 641-999-2203.
Lifts and Chutes
Our facilities feature a head gate and squeeze that can be used for C-section deliveries and semen testing. We also have pens to hold multiple animals.
For horses, we have a basic equine stock that can be used for exams, floating teeth, and treating cuts and other injuries.
No matter the procedure, your animal will be given the highest-quality, most experienced care possible.